Threats don't respect your work hours or your location, so why should threat response and endpoint management be constrained by the times when you're at your desk? The time it takes to respond to a network intrusion can make the crucial difference between "saving the day" and facing disaster.
That's why we've developed the S1 Mobile Admin App: we enable management of the SentinelOne platform directly from the convenience of iOS and Android devices.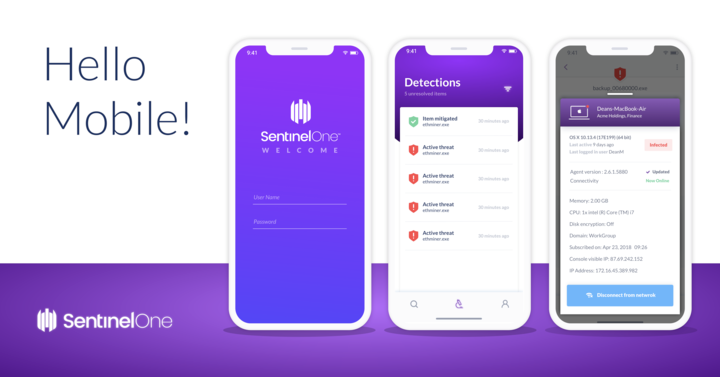 In Touch, In Control
With the S1 Mobile Admin app, administrators can view active threats detected by the SentinelOne agents on your endpoints, gather advanced threat information directly from a mobile device, and report back to enterprise SOC teams. With a single touch, the mobile admin can disconnect a machine from the environment and contain the threat.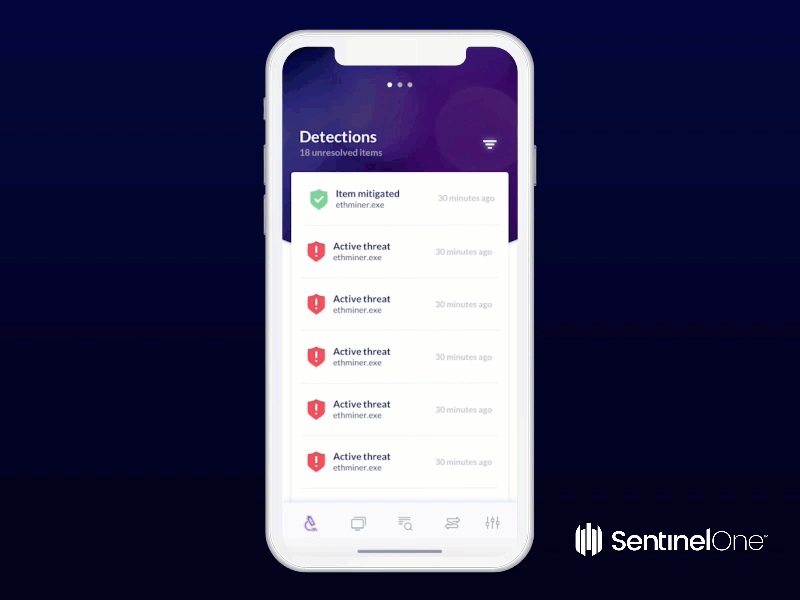 Knowledge is Power
Of course, you will want to know as much as you can about any threats detected, no matter where you are. That's why the S1 Mobile app's Recorded Future integration gives you detailed information on the threat's risk score, machine details, IP address, user login and more. That allows you to easily communicate details via a Slack channel and coordinate further action with your SOC team, if necessary.
Secure, By Design
Naturally, security is always our top consideration, so the S1 Mobile Admin is equipped with several features to ensure the integrity of your network. Users of the app will need to supply a password that matches the authorized administrator password in order to access the SentinelOne console. There is also a timeout feature that clears the device cache and credentials from memory. In addition to that, when the mobile device closes, the app automatically quits and clears its caches; admins will need to reauthenticate the next time they launch the S1 Mobile Admin app.
Conclusion
With the introduction of the S1 Mobile Admin app, we bring you the ability to manage your network security at any time and from any place. By enabling management of the SentinelOne platform directly from iOS and Android devices, S1 Mobile Admin ensures that you can react to threats without delay.
---
Like this article? Follow us on LinkedIn, Twitter, YouTube or Facebook to see the content we post.
Read more Feature Spotlights